Arizona's position on the Southwest border with Mexico has left us disproportionately impacted by illegal border-crossers, including drug and human smugglers who wish to do us harm. We must do more to keep southern Arizona's communities safe, and this month I introduced a number of bills that would help us secure our border.
Keeping Arizona's Border Secure
Arizona's position on the Southwest border with Mexico has left us disproportionately impacted by illegal border-crossers, including drug and human smugglers who wish to do us harm. We must do more to keep southern Arizona's communities safe, and this month I introduced a number of bills that would help us secure our border.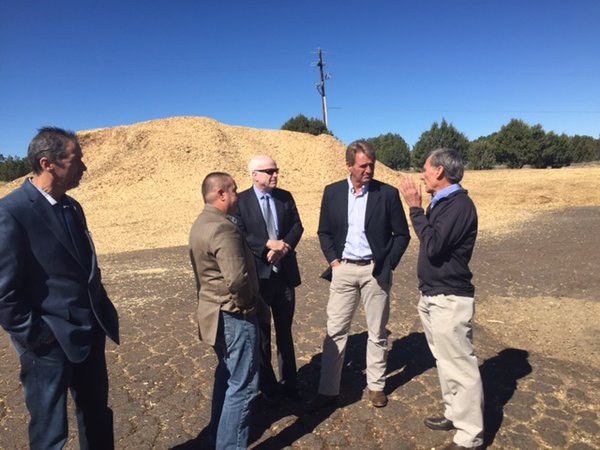 For example, I teamed up with Senator Jeff Flake (R-AZ) last week to address the shortage in Border Patrol officers working along the border. Currently, 1,768 Border Patrol agent positions and 1,046 CBP officer positions remain unfilled, in part due to the Customs and Border Protection's (CBP) slow hiring rate. Our Boots on the Border Act would streamline background tests for qualified veterans, military service members, and law enforcement officers in good standing who are willing to serve our nation again as CBP officers. We must do everything we can to expedite the hiring of individuals who want to protect our nation. This bill would remove unnecessary obstacles allowing them to serve once again.
I also worked with Senator Flake to reauthorize the State Criminal Alien Assistance Program (SCAAP) through fiscal year 2021. The SCAAP program reimburses state, local, and tribal governments for costs associated with incarcerating certain undocumented criminal aliens. As a major entry point on the U.S.-Mexico border, Arizona has been disproportionately affected by the influx in criminal aliens being detained and housed in our jails and prisons. Arizona and other border states shouldn't be penalized for securing the border and keeping their communities safe.
Finally, Congresswoman Martha McSally (R-AZ) and I reintroduced legislation that would enhance penalties for "spotters" who warn cartels or traffickers about the position or surveillance efforts of border agents or attempt to destroy border controls. Specifically, our bill would increase fines and impose a maximum prison time of 10 years for these so-called spotters. Our legislation would help to dismantle a central part of these cartels' communications and logistics networks and help our border officers keep our communities safe.
Boosting Arizona's Economy
Over the last eight years, the Obama Administration's overreach resulted in a never-ending barrage of costly and burdensome regulations that have had a negative impact on the people of Arizona. From the Environmental Protection Agency's (EPA) Waters of the United States (WOTUS) Rule to burdensome regulations on utilities and power plants, the Obama Administration's regulation-addiction threatened to place Arizona's businesses, landowners and consumers under the thumb of the federal government, and stymy our state's vibrant economy. Fortunately, the Trump Administration and the U.S. Senate have taken several important actions over the last few months to roll-back these regulations and get our economy moving again.
Just last week, the President signed an executive order on energy independence that begins to undo onerous regulations would have done far more harm to our state's economy than good for the environment. This follows on my repeated efforts in Congress to roll-back the Obama Administration's regulations on power plants that would have created millions in compliance costs for Arizona utilities, which would have been forced to pass on costs to Arizona consumers in the form of high monthly energy bills. This executive order will also promote efforts already taken by our state to deploy renewable technologies, including a diverse energy portfolio of solar, wind, nuclear, and natural gas.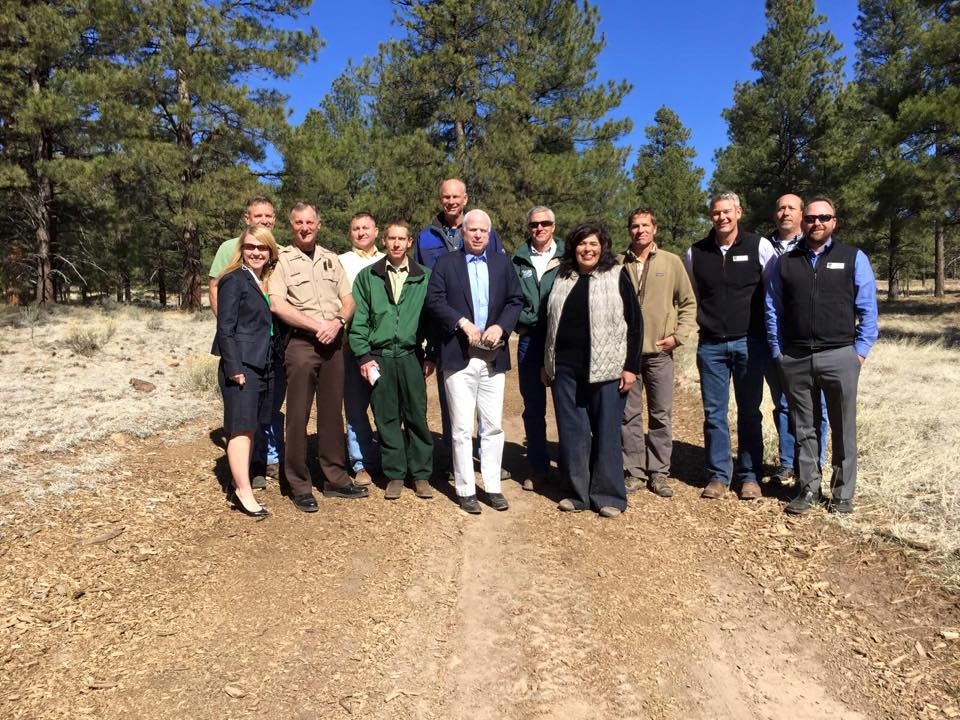 Another important victory for Arizona's agriculture and homebuilding industries was the President's executive order rolling-back the EPA's WOTUS rule, which I have been working with my colleagues in Congress to repeal. This regulation would have put the EPA in charge of more than 60 percent of all surface water in the United States and would have given the federal government authority to prevent farmers from building or repairing canals, communities from constructing schools or churches near dry washes, or even private property owners from developing on their own land.
In the Senate, we have also acted to repeal some of the Obama Administration's most far-reaching regulations, including rules that limit Americans' retirement savings' potential, restrict states' control over schools, and stifle the ability of local communities to provide input on federal land management decisions. To date, Congress has passed 13 resolutions of disapproval rolling-back Obama-era regulations, and we will continue this effort to provide regulatory relief to business and families across America.
In Case You Missed It This March
Continuing the Veterans Choice Program: This month I worked with colleagues to introduce the Veterans Choice Program Improvement Act, legislation that would allow the VA to access all of the funding initially appropriated for the program, and ensure that veterans' access to care isn't disrupted by the looming sunset date August 7, 2017.
Unburdening Nogales, Arizona from IOI Pipeline Costs: This month, I introduced the Nogales Wastewater Fairness Act along with Senator Flake. This legislation would transfer the unfair financial burden of maintenance and capital upgrades of the International Outfall Interceptor (IOI) sewage pipeline located underneath the Nogales Wash along the Arizona-Mexico border from the city of Nogales, Arizona, to the federal International Boundary and Water Commission.
Speeding Up Wildfire Prevention in Arizona: This month, I sent a letter to U.S. Forest Service Chief Thomas Tidwell to express concern about the slow pace of wildfire prevention efforts in Arizona. As wildfire grows in frequency and intensity in our state, it's critical we do everything we can to expedite the pace of forest thinning.
Judge Neil Gorsuch Supreme Court Justice Nomination Hearings: Judge Neil Gorsuch did an outstanding job in his confirmation hearings before the Senate Judiciary Committee this month, and made a great impression, not only on the United States Senate, but on the American people. I am hopeful that both parties will come together to vote in favor Judge Gorsuch and approve his appointment to the Supreme Court.
Preventing Overmedication & Combat Suicide Among Veterans: Last week, I reintroduced the Veterans Overmedication Prevention Act, legislation that would direct the VA to conduct studies on all deaths of veterans being treated at the VA who died by suicide or drug overdose in the last five years. We must end veterans suicide once and for all, and this legislation is a step in the right direction.
Flight Path Changes at Phoenix Sky Harbor International Airport Updates: Last week, I sent a letter with Senator Flake to the Federal Aviation Administration (FAA) requesting an update on its implementation of a provision we championed as part of the National Defense Authorization Act for Fiscal Year 2017 (NDAA) that required the agency to review flight path changes at places like Phoenix Sky Harbor International Airport and take necessary steps to mitigate any negative effects of these changes on local communities.
COINS Act: Last week, I reintroduced legislation to save up to $16 billion in taxpayer dollars by moving to the $1 dollar coin, reducing the cost of nickel production and suspending the minting of the penny, which currently costs more than one cent to produce. With our country facing $20 trillion in debt, this is a commonsense step to cut unnecessary spending and protect the American taxpayer.
6th Anniversary of Syrian Civil War: To mark the sixth anniversary of the start of the Syrian civil war this month, I introduced a resolution that condemns the Assad regime's brutal slaughter of more than 400,000 innocent Syrian civilians, and calls on the Trump Administration to pursue a strategy to bring the violence and destruction in Syria to an end. It is heartbreaking that we have reached the sixth anniversary of this conflict and I will continue to push for a needed comprehensive strategy to put an end to the horror, suffering and devastation in Syria. The lives of hundreds of thousands of Syrians living under siege literally depend on it.
Calling for a Posthumous Pardon for Boxing Legend Jack Johnson: This month, I continued my years-long effort calling on the President to issue a posthumous pardon for the first African American heavyweight boxing champion John Arthur "Jack" Johnson, whose reputation was tarnished by a racially motivated conviction over a century ago in 1913. Despite this resolution passing both chambers of Congress several times since 2004, no pardon has been issued to-date. It's past time we right this historical wrong and restore this great athlete's legacy.
Addressing the Security Situation in Afghanistan: Earlier this month, I urged the Trump Administration to address the dire security situation in Afghanistan following three simultaneous suicide attacks by the Taliban in Kabul that killed at least 16 people and wounded 44 more. This comes after General John Nicholson, commander of U.S. and coalition forces in Afghanistan, recently testified to the Senate Armed Services Committee that after 15 years of fighting, the war in Afghanistan is in a "stalemate." President Trump has the opportunity to turn the page and finally give our commanders the resources and authorities they need to seize the initiative and take the fight to our enemies. I urge him to do so immediately.
Visas for Afghan Interpreters: I introduced bipartisan legislation this month that would provide 2,500 more visas for the Afghan Special Immigrant Visa (SIV) program. This program would allow Afghans, including interpreters, who supported the U.S. mission in Afghanistan and face threats as a result of their service, to apply for refuge in the United States. Passing this legislation would send a clear message that America will not turn its back on those — who at great personal risk — stand with us in the fight against terror.
White House's Proposed 2018 Defense Budget: The fiscal year 2018 defense topline budget proposed earlier this month will not be sufficient to rebuild the military. Such a budget does not represent a 10 percent increase as previously described by the White House, but amounts to a mere 3 percent over President Obama's defense plan, which has left our military underfunded, undersized and unready to meet the threats of today and tomorrow.
Protests Against Corruption in Russia: Last weekend in nearly 100 Russian cities, thousands of people gathered to protest against the tyranny and corruption of the Putin regime. I have been particularly heartened to learn that so many who exercised their rights were young people and students. Because of the determination of the multitudes of patriotic Russians, I am ever hopeful that the cause of truth and justice for the Russian people will be victorious.
Death of Russian Opposition Leader Denis Voronenkov: This month, we witnessed more brazen acts of Russian state terrorism when Denis Voronenkov, an outspoken critic of the Kremlin, was assassinated on the streets of Kiev, Russia. Denis spoke out against Putin's reign of terror and his illegal invasion of Ukraine. Nikolai Gorokhov, the brave lawyer who has sought justice for the family of murdered Russian whistleblower Sergei Magnitsky, was also severely injured when he was apparently thrown from the window of his apartment building in Moscow.
Montenegro's Accession to NATO: Just last week, the Senate voted 97-2 to ratify Montenegro's accession to the North Atlantic Treaty Organization (NATO). This overwhelming vote serves as a powerful demonstration of Congress's unwavering bipartisan commitment to the NATO alliance.
Social Media Spotlight
As I like to say, "you can still teach an old dog new tricks." Social media is one of the best ways to stay in touch with my constituents, especially young people who use social media to stay up-to-date with news and information.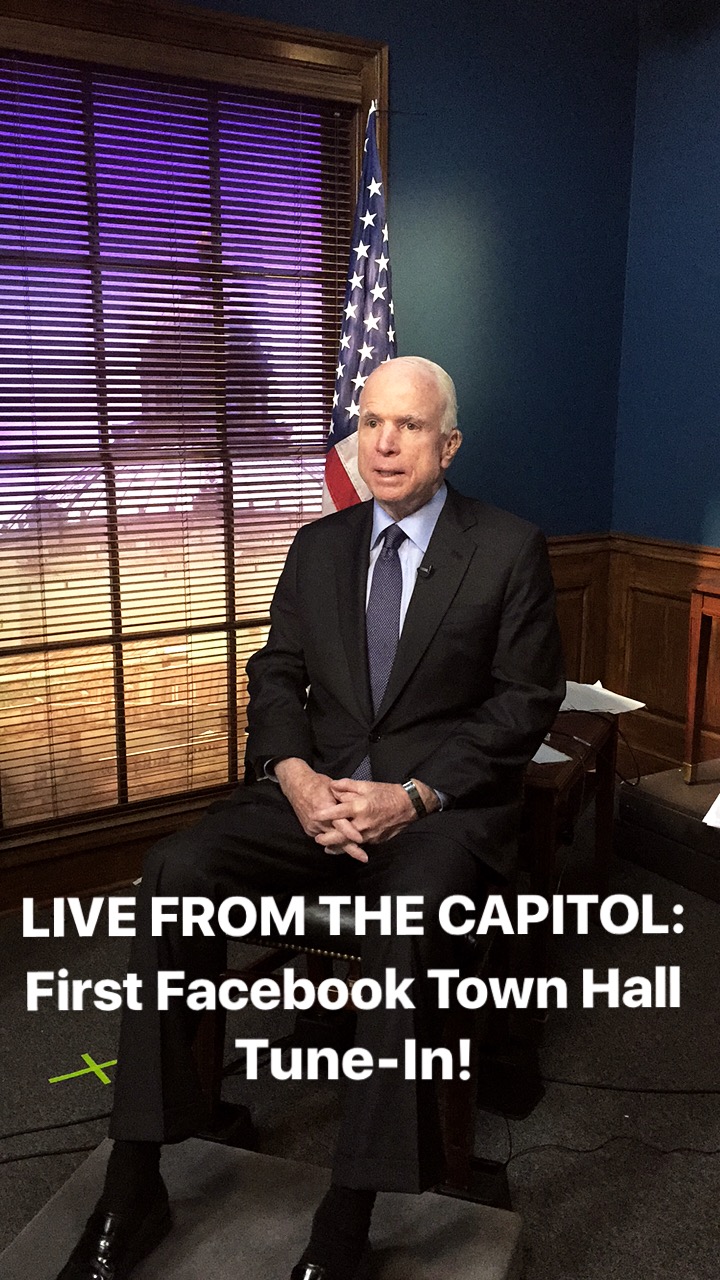 Over the last few months, I've taken a number of steps to better connect with you on social media. I recently launched my Snapchat account, starting posting to Instagram Stories, and hosted my first two Facebook Live Town Halls.
To stay connected, add me on SnapChat by snapping a picture of the icon below. You can also follow me on Twitter, Facebook and Instagram.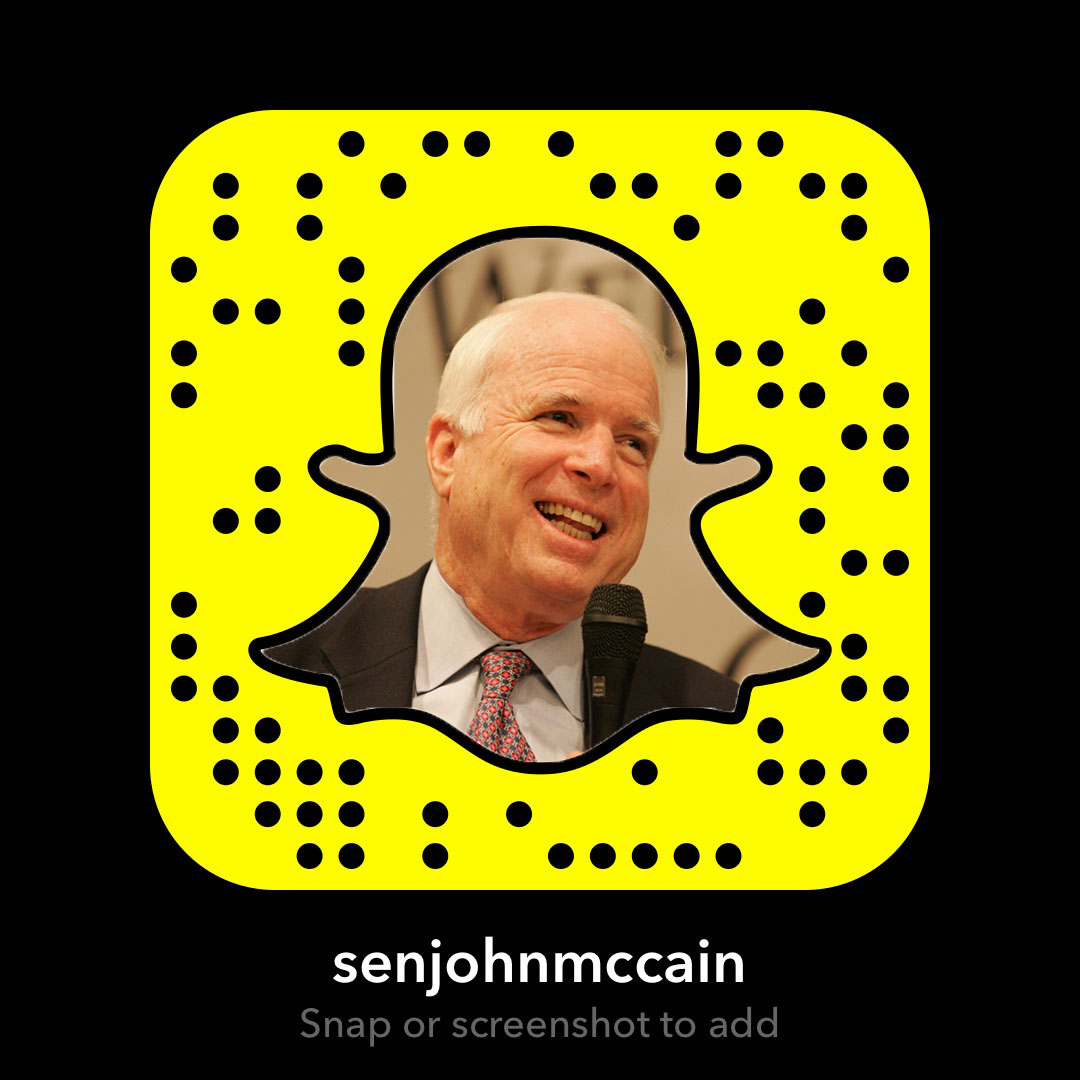 Event Spotlight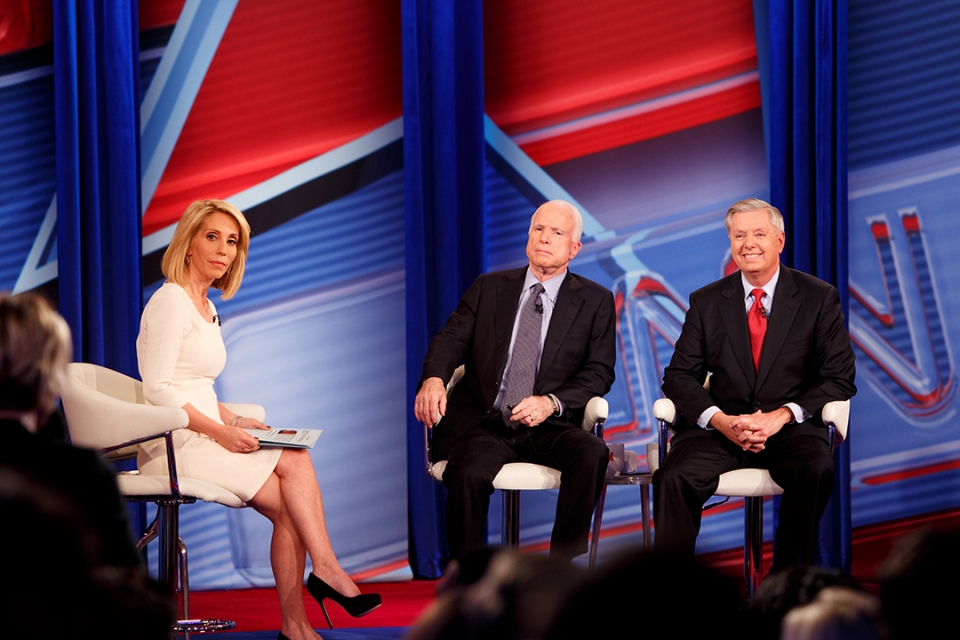 This month, I participated in a town hall event with Senator Lindsey Graham (R-SC) and moderated by CNN's Dana Bash. It was a great opportunity to discuss rebuilding the military, Russia's interference in the election, and many other important topics. I answered excellent questions from the audience, one of which was from military veteran and Medal of Honor recipient Corporal Kyle Carpenter.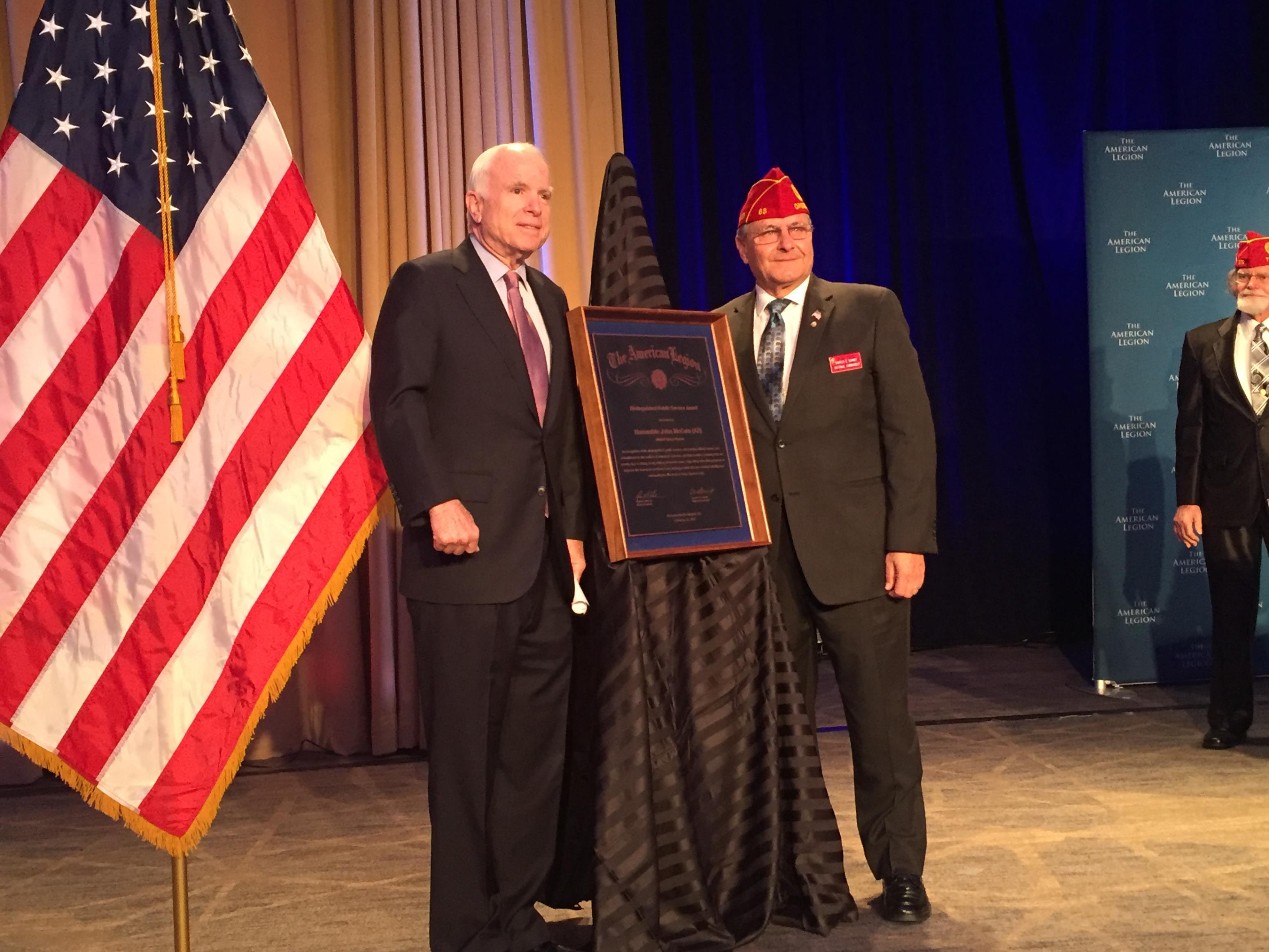 I was deeply honored to receive the American Legion National Commander's Distinguished Public Service Award earlier this month at the Legion's annual Washington Conference.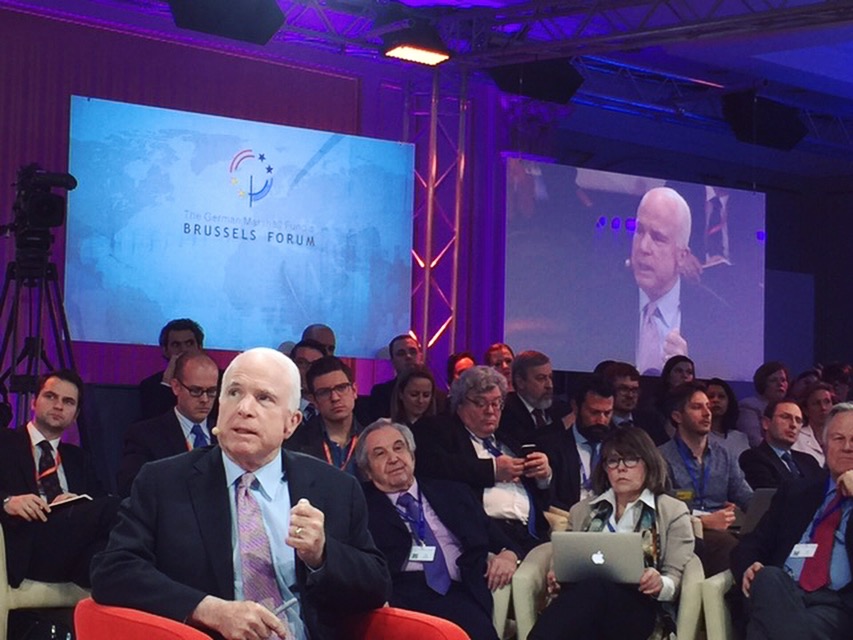 I was honored to address the German Marshal Fund's Brussels Forum in Brussels, Belgium this month, where I marked the 70th anniversary of the Marshall Plan by discussing the importance of a strong U.S.-Europe partnership.
###