Thank You for Your Support
I was overwhelmed by the outpouring of support following the announcement of my health challenge. From the bottom of my heart, I want to thank you for your well-wishes and support. I look forward to keeping up a work schedule in Arizona as I receive treatment at Mayo Clinic this summer, and will return to the United States Senate at the conclusion of the August recess.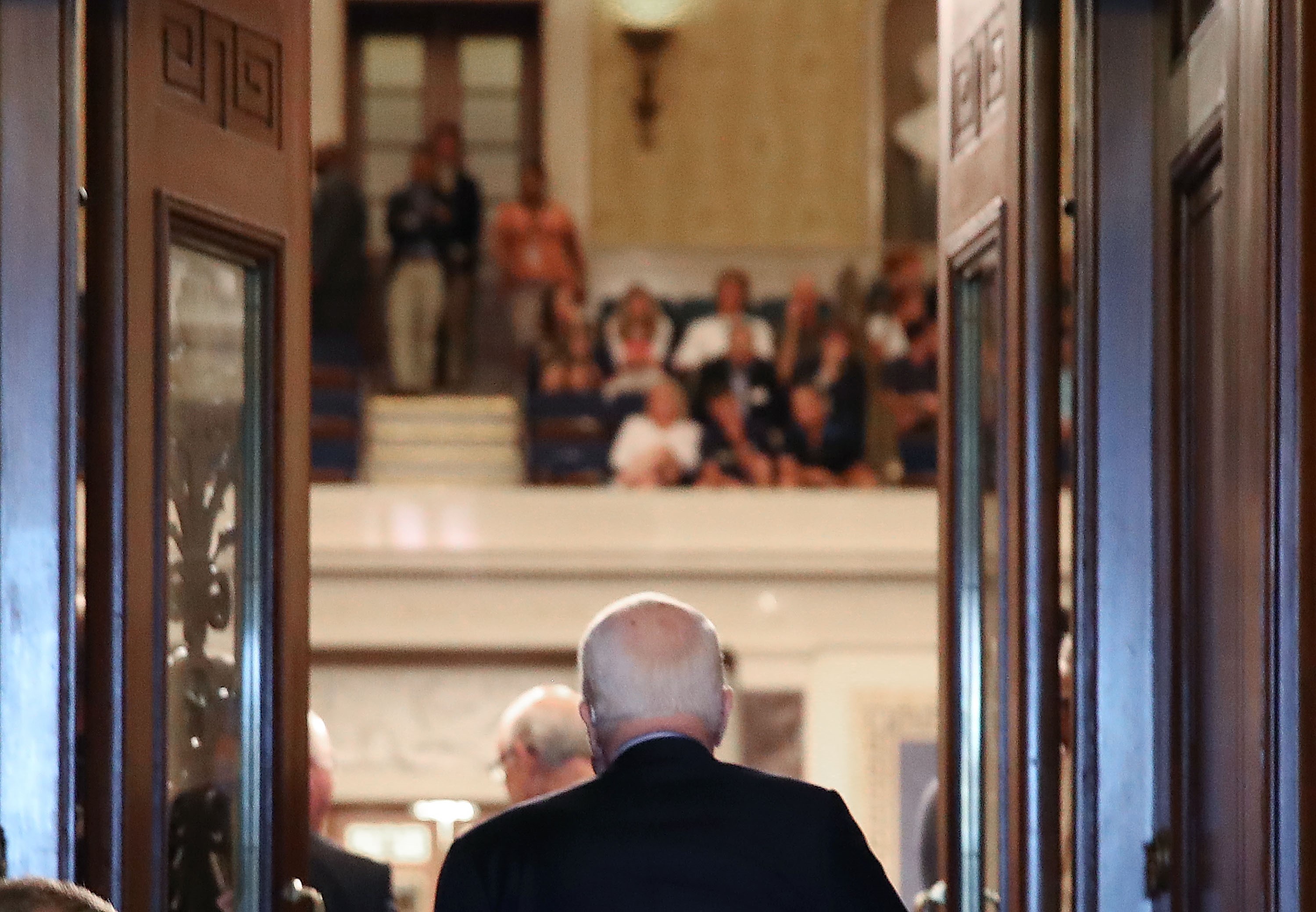 The Need for Civility and Bipartisanship
After a week of rest with my family in Arizona, I returned to Washington last Tuesday to continue the people's work in the United States Senate. Upon my return, I spoke on the Senate floor on the current state of politics in our country and need for civility and bipartisanship. As I stated in my speech, the success of the Senate is important to the continued success of America. This country — this big, boisterous, brawling, intemperate, restless, striving, daring, beautiful, bountiful, brave, good and magnificent country — needs the U.S. Senate to help it thrive. That responsibility is more important than any personal interests or political affiliations.
Watch my entire speech below.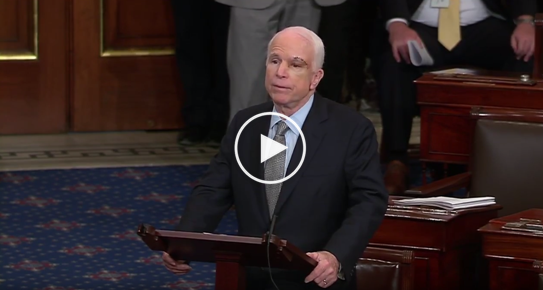 The Best Path Forward for Health Care
Last week, after a series of votes on health care legislation, I voted "no" on the so-called "skinny repeal" of Obamacare. From the beginning, I have believed that Obamacare should be repealed and replaced with a solution that increases competition, lowers costs, and improves care for all the American people. It was clear to everyone that the skinny repeal would not accomplish those goals.
I've stated time and time again that one of the major failures of Obamacare was that it was rammed through Congress by Democrats on a strict-party line basis without a single Republican vote. We should not make the mistake of the past that led to Obamacare's collapse, including in my home state of Arizona where premiums are skyrocketing and health care providers are fleeing the marketplace.
Last week's vote presents the Senate with an opportunity to start fresh. It is now time to return to regular order with input from all of our members –Republicans and Democrats — and bring a bill to the floor of the Senate for amendment and debate. I have great faith in the ability of the Senator from Tennessee, Lamar Alexander, the Senator from Washington, Patty Murray, and others to work together in a bipartisan fashion to craft a bill that increases competition, lowers costs, and improves care for the American people. It's time for members from both sides of the aisle to trust each other, stop the political gamesmanship, and put the health care needs of the American people first. We can do this.
Holding Russia Accountable for Election Attack
This month, I was proud to join my colleagues in voting to pass the Countering America's Adversaries Through Sanctions Act, legislation that strengthens and expands sanctions on Russia, Iran and North Korea. The legislation now moves to the president's desk for signature.
In just the last three years, Vladimir Putin's Russia has invaded Ukraine, annexed Crimea, threatened NATO allies, and intervened militarily in Syria, leaving a trail of death, destruction, and broken promises in its wake. And of course, last year, Russia attacked the foundations of American democracy with a cyber and information campaign to interfere in America's 2016 election. This should outrage every American, and compel us to action. But in the last eight months, what price has Russia paid for attacking American democracy? Hardly any at all. This legislation would begin to change that by imposing new sanctions, strengthening existing sanctions, and requiring congressional oversight of any attempt to ease sanctions on Russia.
The Senate's 98-2 vote to pass this legislation sends a strong message to Vladimir Putin and other aggressors that we will not tolerate attacks on our democracy. I hope the president will quickly sign this bill so we can finally respond to Russia's attack on American democracy with strength, with resolve and with common purpose.
In Case You Missed It This July
Independence Day Message: This fourth of July I continued my long tradition of celebrating Independence Day with U.S. service members serving overseas in Kabul, Afghanistan. I can think of no place I would rather be on the day our country celebrates its independence than with the men and women selflessly serving overseas. It is always my special privilege to meet with Arizona's own service men and women, and preside over the reenlistment of troops from across our great country who have made the ultimate commitment so that we might to continue to rely on their courage and patriotism.
IOI Pipeline Break in Nogales, Arizona: Last week, there was another severe break in the International Outfall Interceptor (IOI) sewage pipeline along the U.S.-Mexico border. The rupture could expose the Potrero Creek to over 10 million gallons of untreated sewage that flows through the Santa Cruz River, impacting countless communities in its path. I sent a letter with Senator Jeff Flake (R-AZ) and U.S. Representatives Martha McSally (R-AZ) and Raúl Grijalva (D-AZ) urging the International Boundary and Water Commission (IBWC) to address the breach and prevent ruptures from taking place in the future.
My Bill to Repeal the Jones Act & Promote Free Trade: Earlier this month, I reintroduced the Open America's Waters Act of 2017, legislation that would repeal the archaic Jones Act of 1920 and promote free trade for the benefit of American businesses and consumers.
The Retaking of Mosul: This month Iraqi government and its military forces, along with its U.S. and coalition partners retook Mosul, marking an important success in the campaign to defeat ISIL. It is now incumbent upon all of these various actors to formulate a comprehensive strategy to both rebuild Mosul and address the terrorist threat that ISIL will continue to pose.
Death of Nobel Peace Prize Laureate & Human Rights Advocate Liu Xiaobo: The death of Nobel Peace Prize laureate Dr. Liu this month, after Chinese officials refused his release despite his grave medical condition, represented an egregious violation of the fundamental human rights Dr. Liu spent his life fighting to uphold. The United States of America needs to make clear that we will not tolerate China's pervasive violation of human rights.
Reports Regarding Program to Assist the Syrian Opposition: If this month's reports indicating that the administration is ending a program to assist the Syrian opposition are true, the administration is playing right into the hands of Vladimir Putin. Assad's removal from power must be a pillar of the American strategy to end the brutal conflict in Syria, which has fueled ISIL's growth through its cruelty, extended malign Iranian influence, and undermined broader regional stability.
Flight Suspension of Marine Corps KC-130Ts: The recent loss of 16 service members in a KC-130T crash again reminded us of the dangers our men and women in uniform face on a daily basis, and the sacrifices they make in combat and in training. While the investigation into the accident is ongoing, I commend the leadership of the Marine Corps for taking the precaution of suspending KC-130T aircraft flight operations. The readiness and material condition of the aviation arm of the Marines is a top priority and the Senate Armed Services Committee will continue to work closely with the Services to ensure the safety of our service members.
50th Anniversary of the USS Forrestal Fire: Fifty years ago this month, our country lost 134 brave sailors and Marines to a tragic fire aboard the USS Forrestal. Two-hundred and ninety-five people were killed or wounded. Let us always remember their sacrifice.
Event Spotlight
I returned to Washington last Tuesday, July 25th, to continue the people's work in the United States Senate. Below are some highlights from my return.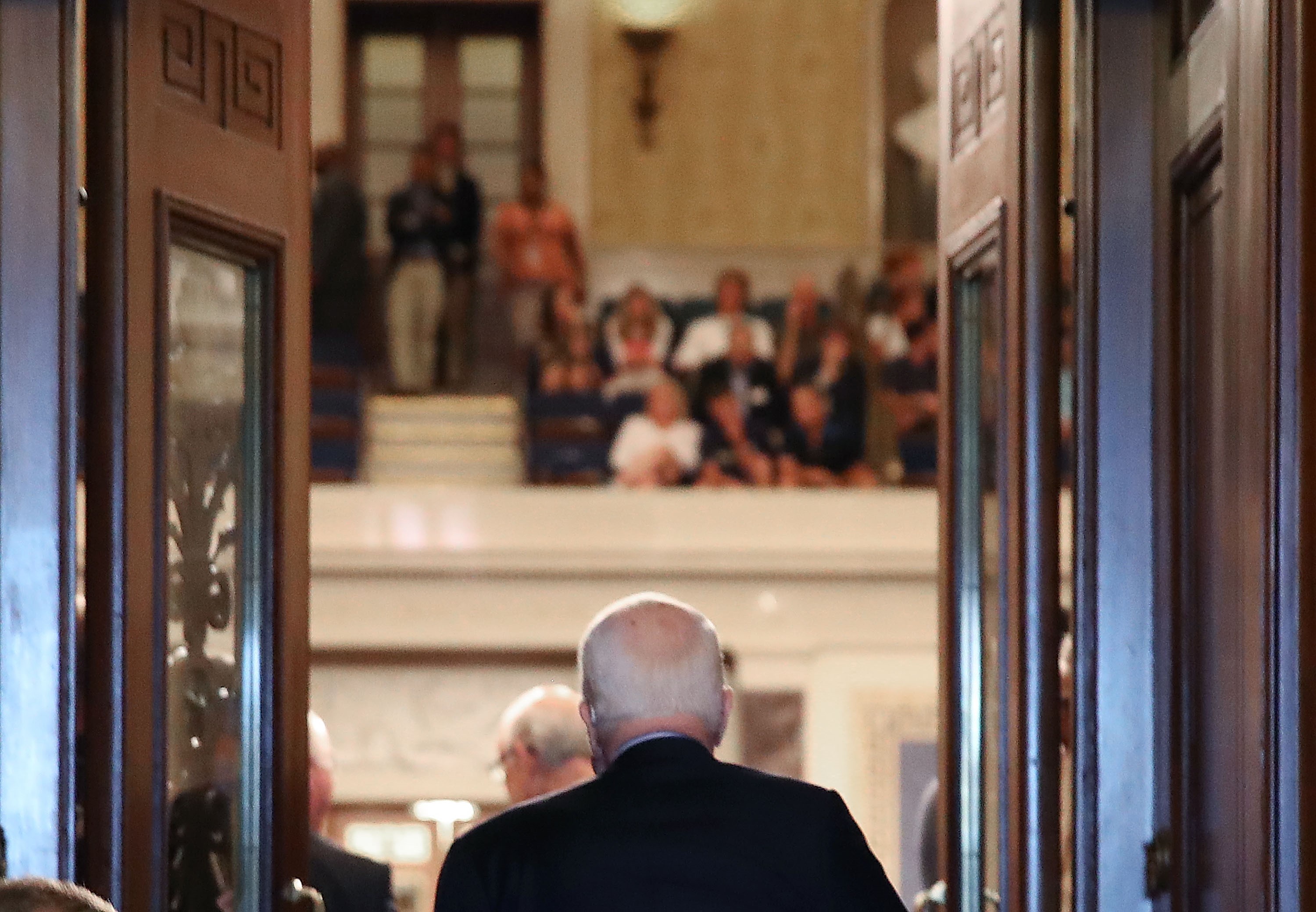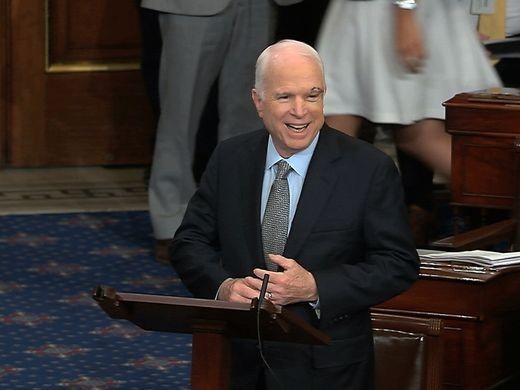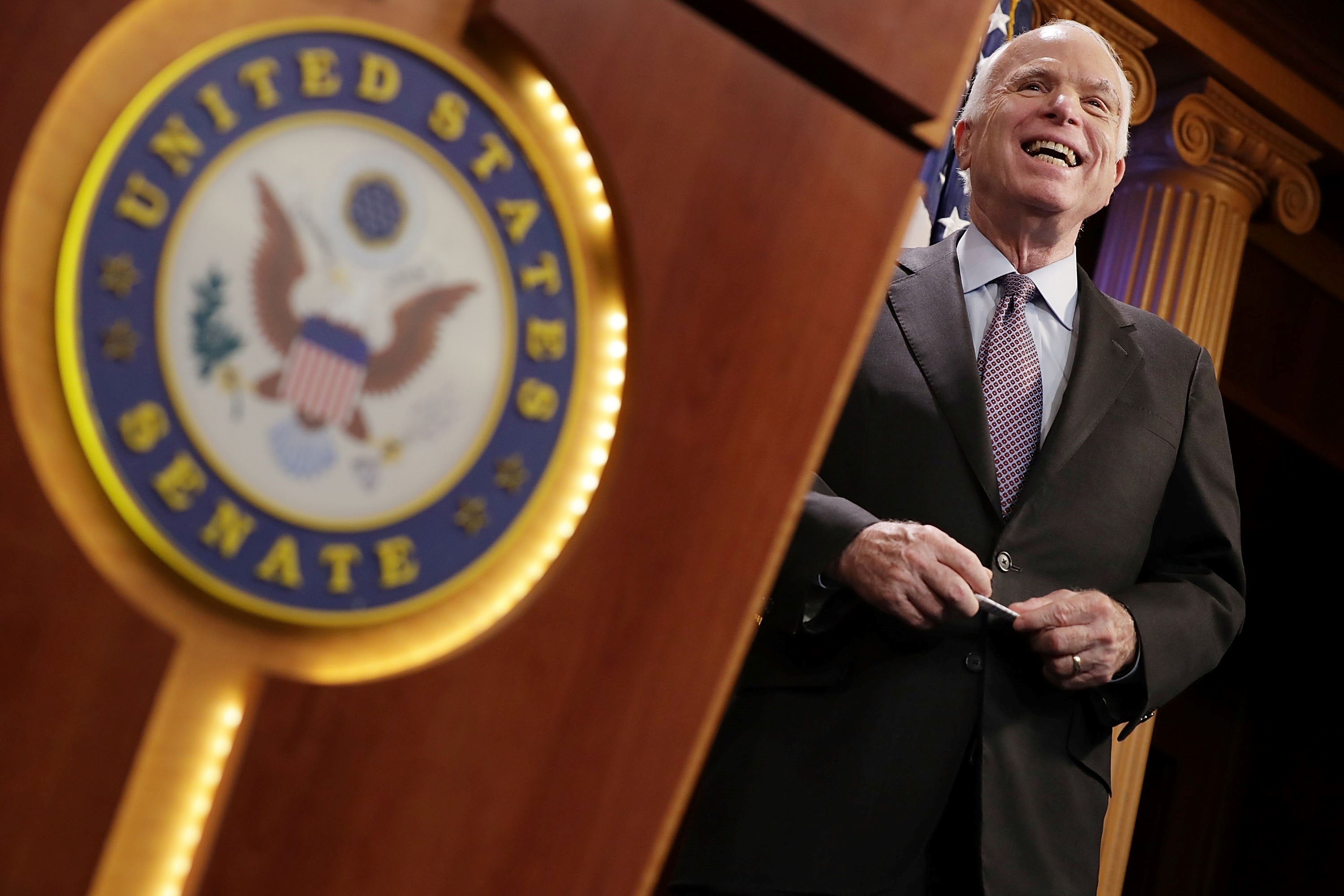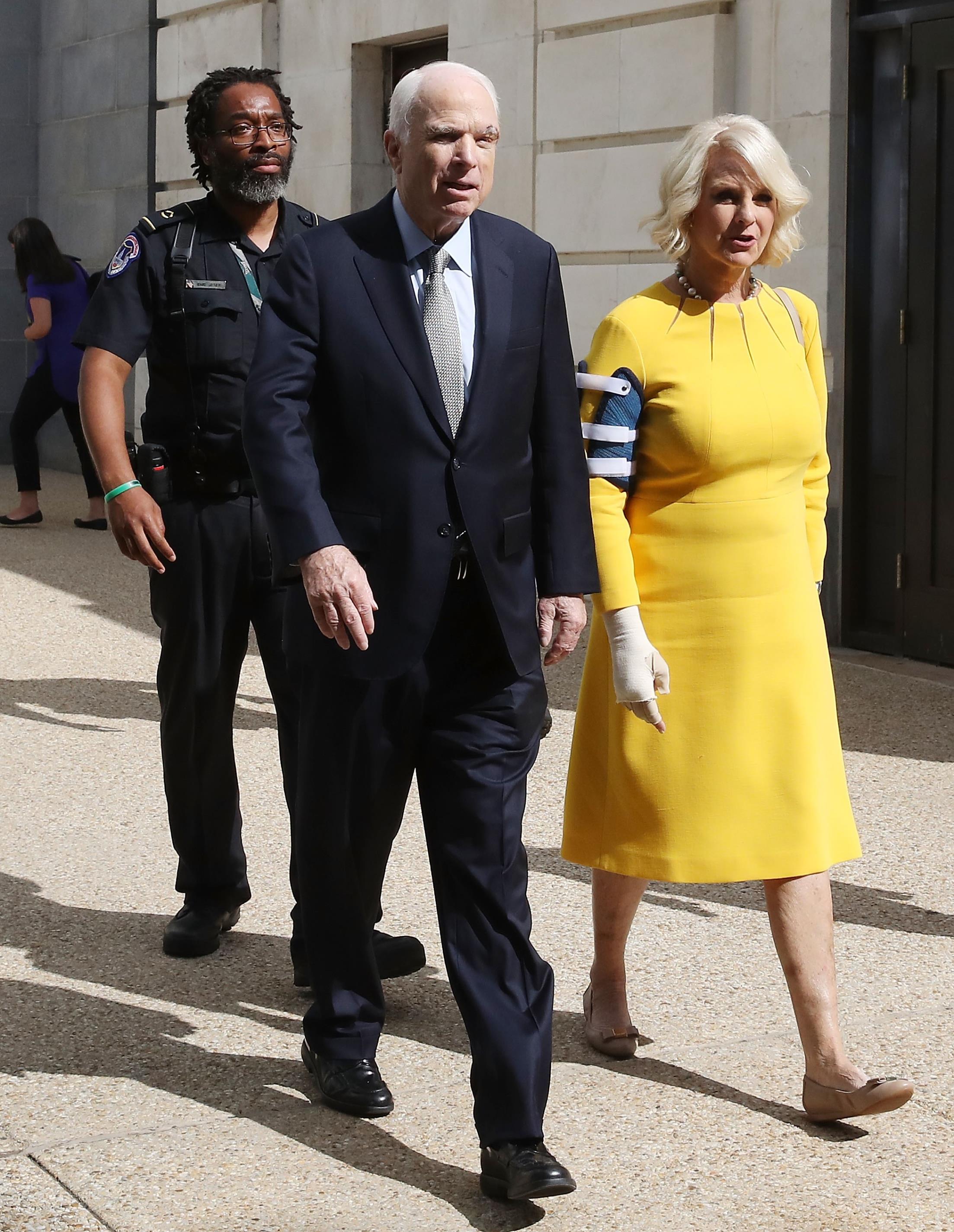 This Independence Day, I continued my long tradition of celebrating with U.S. service members serving overseas in Kabul, Afghanistan. Below are some highlights from the trip.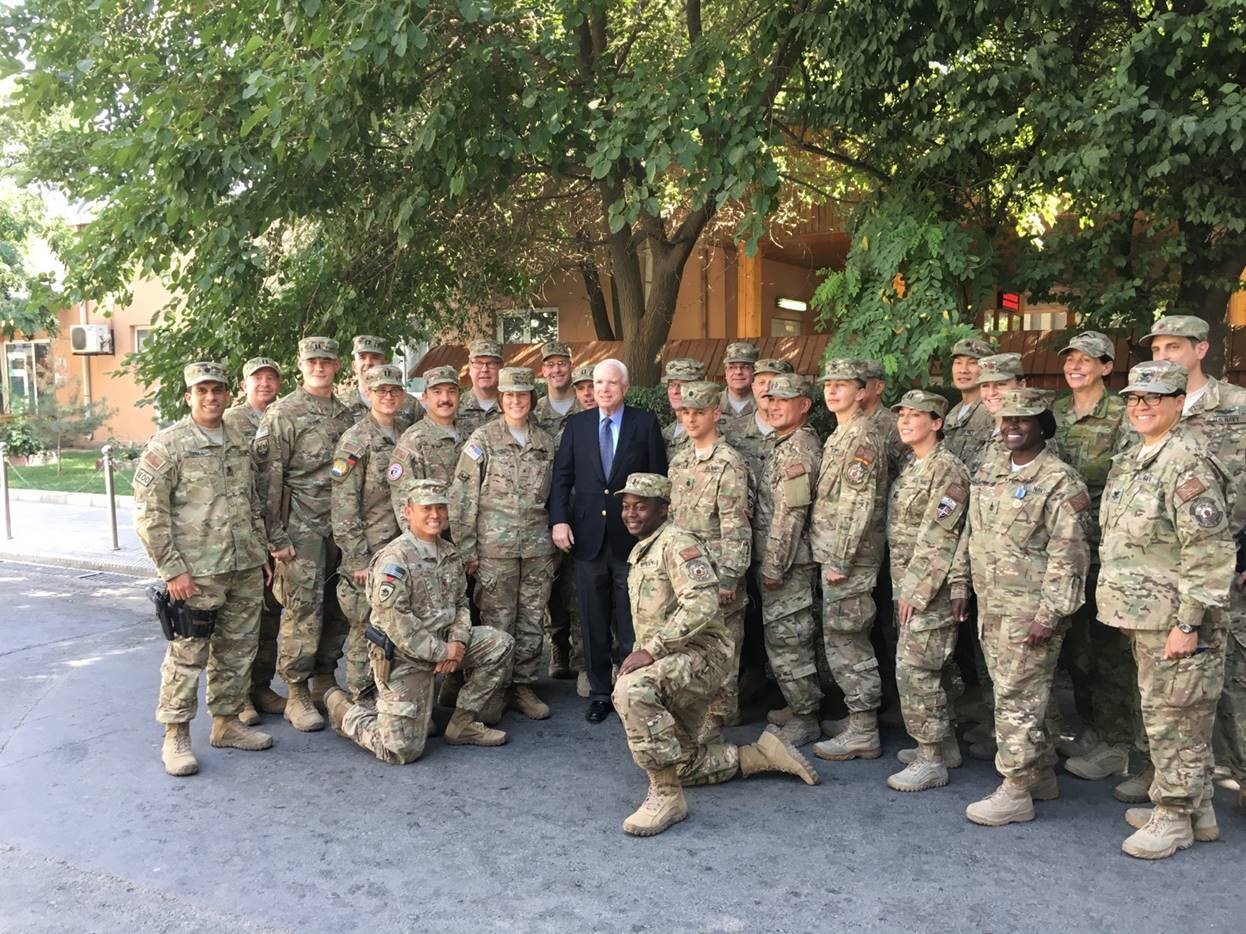 Meeting with U.S. service members at Camp Resolute in Kabul, Afghanistan on July 4, 2017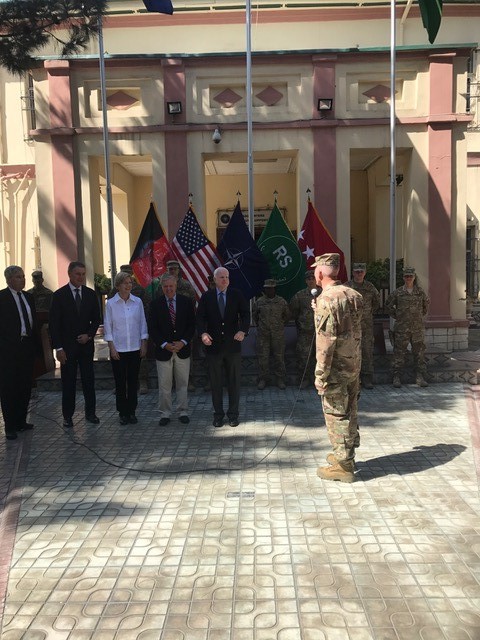 Presiding over promotion and reenlistment ceremonies of U.S. service members at Camp Resolute Support in Afghanistan on July 4, 2017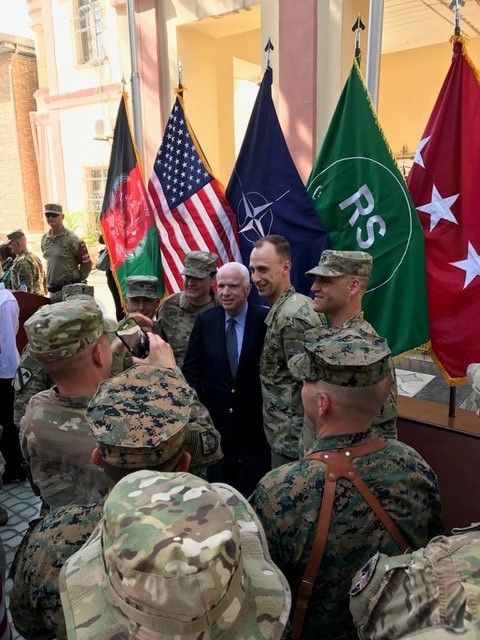 Greeting U.S. service members in Kabul, Afghanistan on July 4, 2017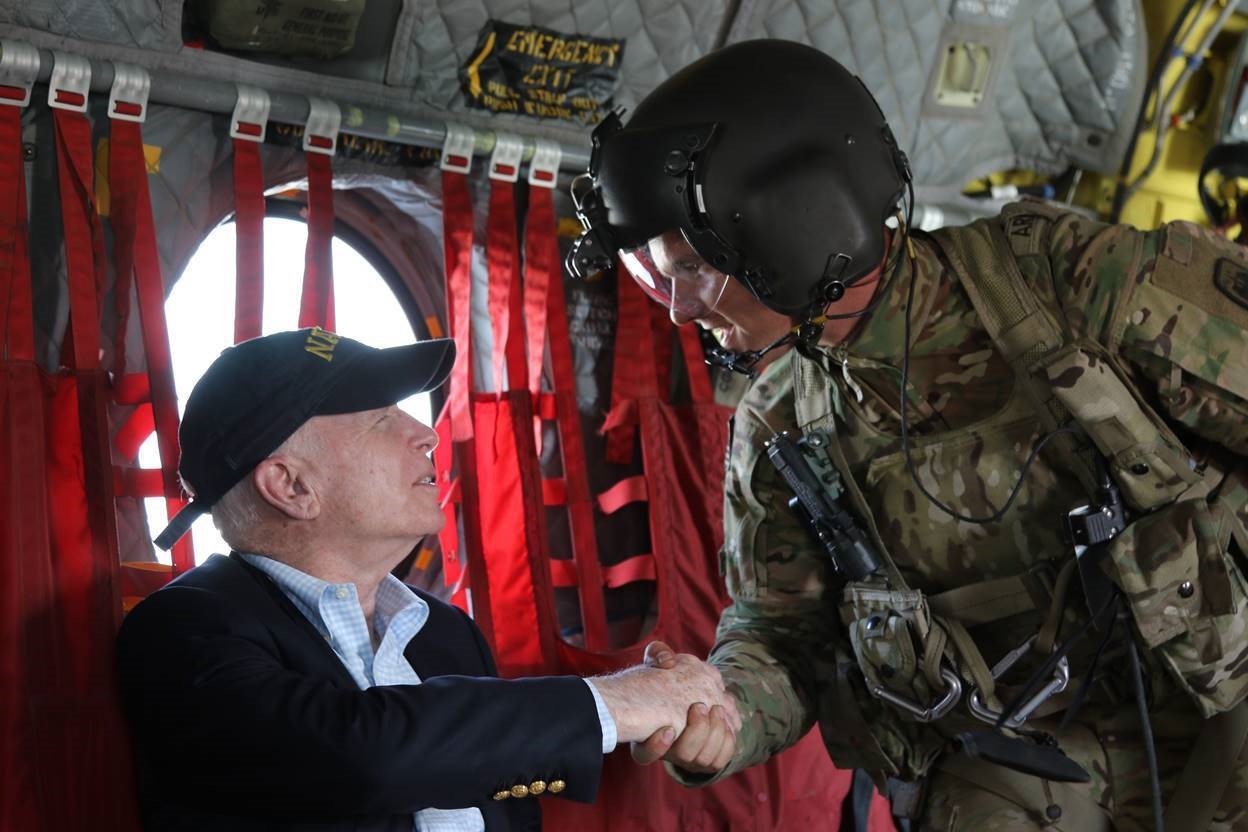 Greeting a service member at Camp Resolute Support in Afghanistan on July 3, 2017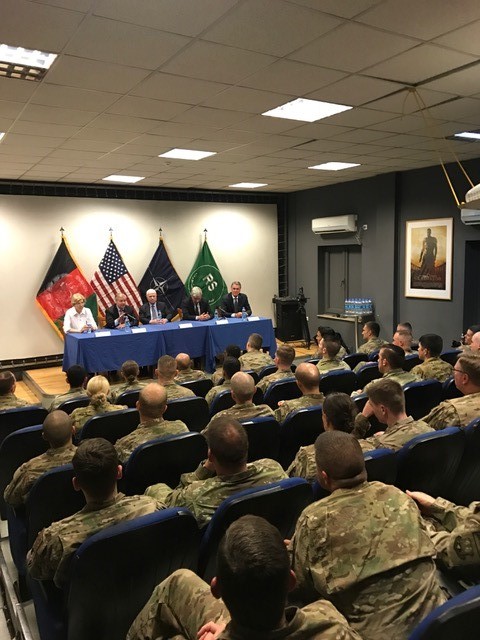 Holding a town hall meeting with my colleagues Senators Lindsey Graham (R-SC), Sheldon Whitehouse (D-RI), David Perdue (R-GA) and Elizabeth Warren (D-MA) in Kabul, Afghanistan on July 4, 2017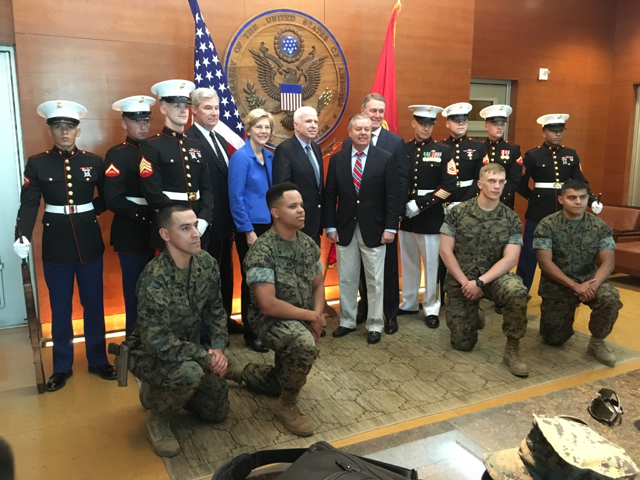 Meeting with U.S. service members at the U.S. Embassy in Kabul, Afghanistan on July 4, 2017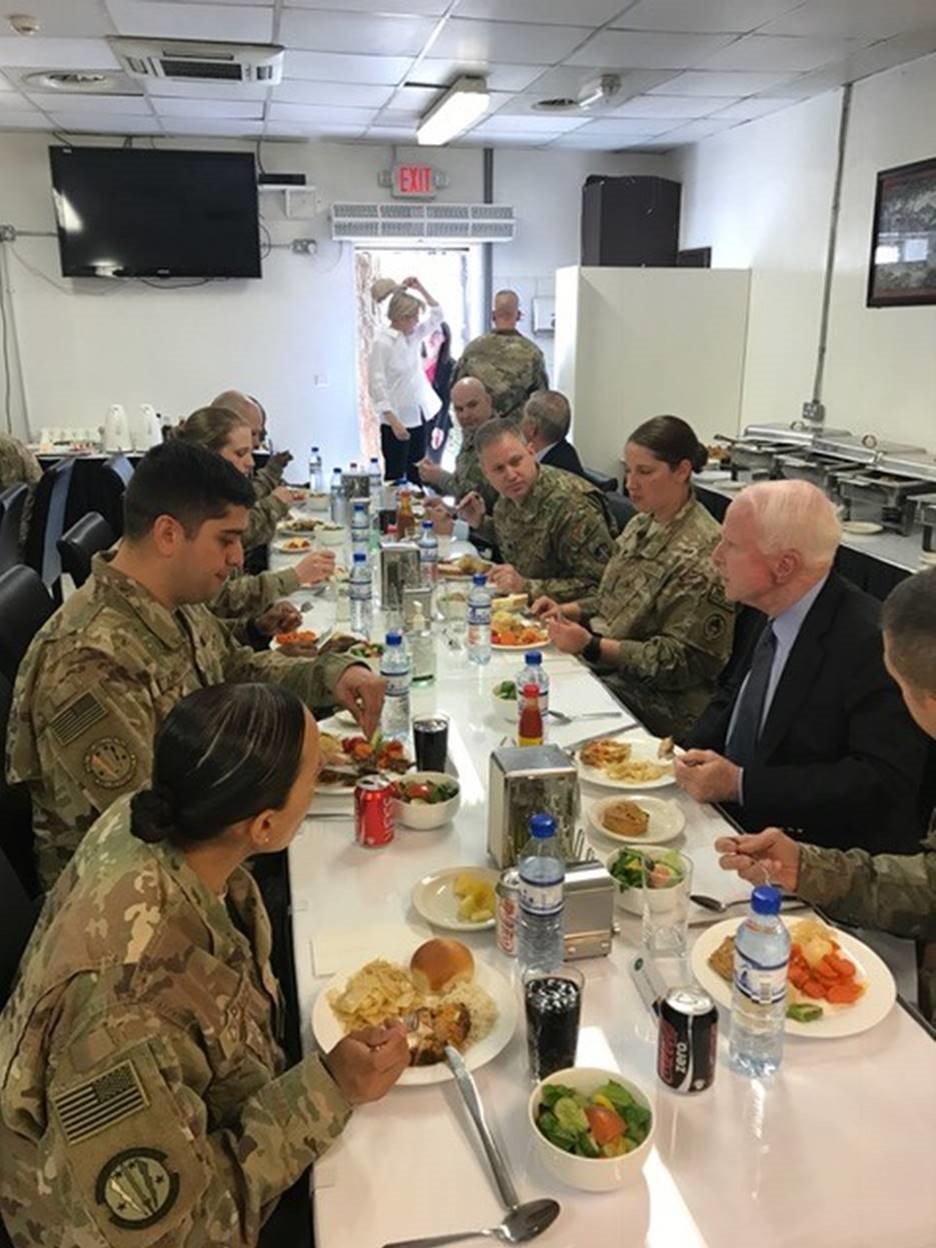 Sharing lunch with U.S. service members in Afghanistan on July 4, 2017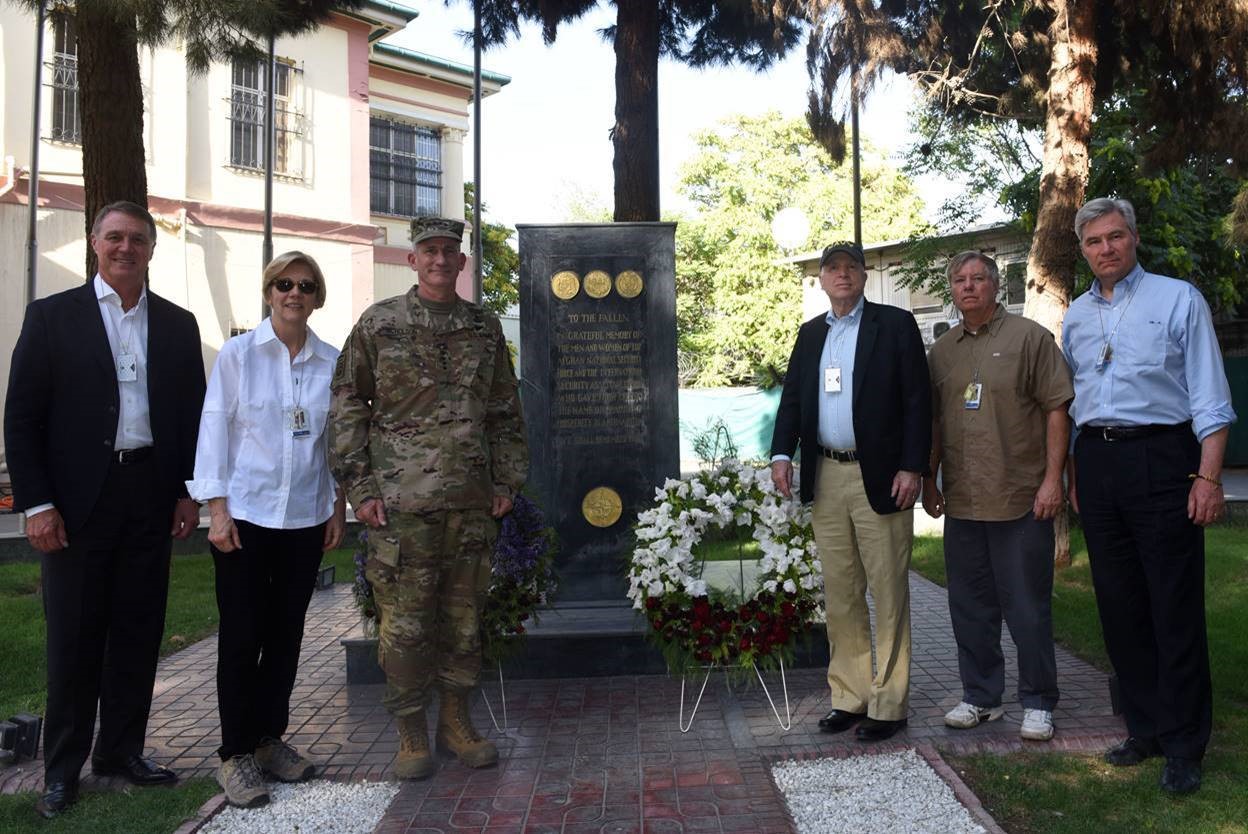 With my colleagues and General John Nicholson, Commander of U.S. Forces Afghanistan, at a memorial honoring U.S. & international forces in Afghanistan on July 3, 2017
Social Media Spotlight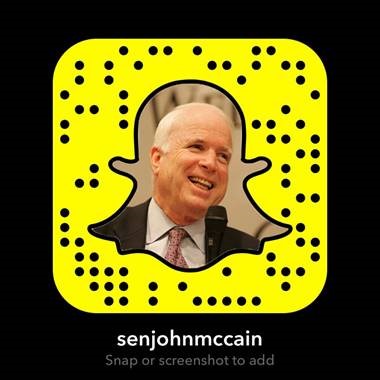 For updates on my work on Capitol Hill, add me on SnapChat by snapping a picture of the icon above. You can also follow me on Twitter,Facebook and Instagram.